Napsal Xsoft dne 15. 1. 2010 do Konzole | 0 komentářů
V úterý 12.1.2010 nám vyšla další (ee .. hudební?) hra na Ninteno Wii. Jmenuje se Walk It Out. Konami již dříve oznamovala, že tato pohybová hra vyjde a máme jí tu. Budete se v ní procházet do rytmu (známé) nové hudby, unlockovat nové mini-hry, žískávat bonusy a obecně vidět, o čem WalkItOut svět je.
Ke hraní se dá použít jak DDR podložka, Tak Wii Balance Board.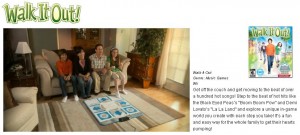 Na ukázku se podívejte tady na stránkách Konami.
UPDATE (22.1.2010): V Evropě hra vychází jako Step to the Beat.
Songy (spoilert alert – pokud to nááhodou opravdu chcete hrát ;)):
Master Recordings
Boom Boom Pow – The Black Eyed Peas
Closer – Ne-Yo
Clumsy – Fergie [R&B]
Get Ur Freak On – Missy Elliot
Hot N Cold (Bimbo Jones Remix) – Katy Perry
How Do You Sleep – Jesse McCartney
Kiss Me Through The Phone – Soulja Boy Tell 'Em feat. Sammie [Hip Hop]
La La Land – Demi Lovato
When I Grow Up – The Pussycat Dolls
Cover Recordings
Crazy In Love
Holiday
September [Disco]
Vacation
Walking On Sunshine
What Is Love
Originals
45 rotations / Sampling masters AYA
A Little Dangerous
A Little Somethin'
All Through The Night / Techno
Aria On G-Strings (Bab2MIX) / apostrophe fish
Bad Little Kitty
Beginning / STANLEY NOVO / Techno
Belmont's Destiny / Kinuyo Yamashita
BillyRock
Blue Waltz / Orchestral
Boku no Kanojo
BOKURA WA HERO SA!!
Bossa Brosa!
Boundcloud / DJ Simon
Break the Rules / kors k feat. ЯIRE
Bulldozer / Alt Rock
Caribbean Frenzy
Celia Folk / Celtic
City Express / Yoshino Aoki
cosmic snow / Yasuhisa Watanabe
Crash / RAM
Dance While The Records Spin / Randall Jones
Dancer In The Flash / First Circle
Dancing Boom / Studio Bongo Mango feat. HIYORI
Digital Chaos / Takeshi Abo
Don't Expect / Electro Rock
Drive Me Crazy (Al Storm Remix) / Asio feat. Fraz & Yasmine
Eastern Philosophy / Momori
Encore!
Everybody (Nufoundation Remix) / Carl Q feat. Fraz
FTL
FUNKY ALIENS
FUNKY STRUTTIN' / Funk
Fuzz Buster
GO HARD / Studio Bongo Mango feat. AKLO
Guardian Angel (UFO Remix) / Scania feat. Malaya / Ballad
Habanera (Monster Party Mix) / Classical Remix
Happy in commet / Sampling masters MEGA
Holiday Waltz
I Wanna Try, I Wanna Fly / nc ft. Sakura Leon
IN THE FIRE / nc ft. StormRock
Instamatic Rip
Island Dream
Jungle Cafe'
Katana In The Moonlight / Takuya Hanaoka
KIMI NARA DEKIRU SA!! / Koji Hayama
KURU KURU ABEBA! / Keiichi Okabe featuring Maon Kurosaki
Liliputians' Dance / Folk
LITTLE EXPLORERS
Love is here / Studio Bongo Mango feat. Chiyotia
Love Me Tonight
Love Will Be Waiting
Muteki Onnanoko
Nah Dee Banghra
NEWGRAM / BB4
Next Big Thing
Nightbird Mambo
Not Takin' You Back
Not The One
Nowhere To Run
Oh My Baby / Studio Bongo Mango feat. MAYUKI
On The Floor Tonight
One Night Gig / oo39.com / House
Open Up To Me / Studio Bongo Mango feat. MAYUKI & AKLO
Opus. 5 / Progressive Rock
Out Of Control / nc ft. NRG Factory
Outta My Way / Smashtrax
OYASUMI!
PIPE LINE / Kakeru Ishihama
polychrome / FAT & MAN / Trance
Psychoanalysis / nc ft. Yasushi Asada / Metal
Que Pasa
Return My Heart / Big Idea / Latin
Ribbon / Ryu☆
Rippin' / Fracus / Rock
ROCK UP / Shoichiro Hirata
Run Away / Reggae
Sakura In The Galaxy
SAX and the CITY / Studio Bongo Mango feat. Hitomi
Say The Word / Industrial
Situation Critical / Pop
Soft Paws
Someone To Love
Spin Around
Step 2 da riddim / Studio Bongo Mango feat. NO+CHIN & MAYUKI / Dancehall
Still Shine / Suzuyo Miyamoto / J Pop
Summer Beats
Summer Hymn / Caribbean
Sunny Afternoon / Studio Bongo Mango feat. chico
Sunset Beachwalk
Sunshine (Bombjaw Remix) / Tanaka feat. Maylene / Eurobeat
Sweet Spitfire
Sweet Thing
Terror From Above / Iceburgers / Breaks
TIME IN MOTION / lim's Sculpture
Time
Treble, Bass & Attitude (CLSM Remix) / The Acolyte / Drum & Bass
Urban Shark / Jazz
WARP!
Wildest Dream
Wind Me Up
Wonderful (United Freedom Mix) / H1 feat. Kyla
Worlds Apart (Impact Remix) / Jarvis feat. Taya / Happy Hardcore
YUMENONAKA / nc ft. mioco
Zorba The Greek / Folk

Napsat komentář